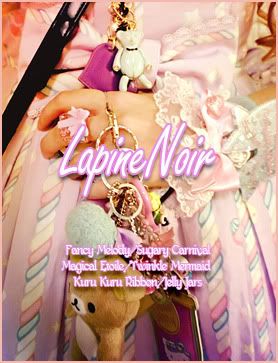 Well hello, Daily Lolita! It's been a while. I have to admit, I'd been posting to Tumblr recently since it's so much easier. Here are a few outfits from this summer, since I kind of fell behind... >>; (hasn't everyone?) As always, you can find more pictures and tidbits of my life on my tumblr (Cinnibunny) shamelesstumblrplug/no1curr/tl;dr I thought I had posted a few of these outfits before, but I checked through my posts and it would appear that I haven't. I'm a spacecadet.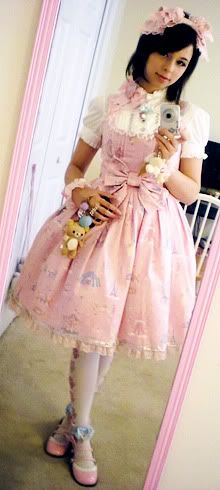 First up, we have my Going to see Dawn (
belovedwolf) outfit! :D I love visiting Dawn. She's an awesome friend and lolita. ;u; ♥ I feel like I overdid it. xD; She always wears such beautiful, delicate classical things and I always look like I stepped off of the Crazy Bus.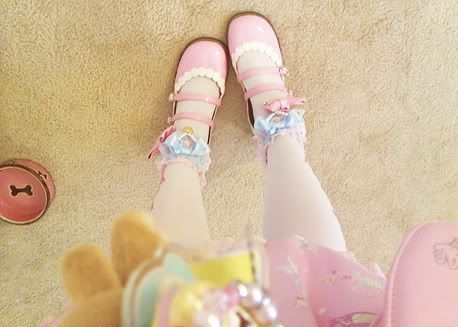 Supplementary shoe shot.



OHLOOKMYFACE (sort of). Wore my hair natural that day. This was prior to my new pixie cut. :D Kept my makeup soft and natural too (butyoucan'tseeitteehee)

Outfit Rundown
Headbow, JSK, cuffs, socks, shoes, some jewelry: AP
Blouse: Offbrand Macy's find
Bag: Bani Rabbit


Then I got my Twinkle Mermaid JSK in the mail! :D:D It's one of my favorite prints. Still want it in blue and the skirt in black, though. >>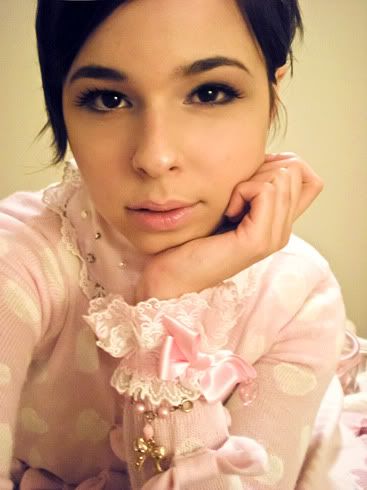 Experimented with a filled in brow and some thicker eyeliner/falsies that day. Afterwards, I highlighted my inner eye corners and applied some gloss to my lips. Everything else was more or less natural. I didn't really go anywhere in this, so I didn't overdo it. And whoa, check out that short, short hair! Still don't know if I can rock the look, haha.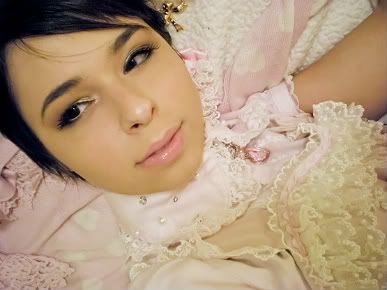 and then i dorked around in different lighting/camwhored like a myspace brat durp

Outfit Rundown
Headband, blouse, jsk, cuffs, cardi, some jewelry: AP
Other Jewelry: Claire's, Taobao viv west replica
Shoes: Secret Shop
Socks: Target
Bag: Bani


This next outfit was what I wore for our Harry Potter movie meetup. :D



It's a little bit whimsical, I think! :D



Accessories and bagggg.
No makeup short for this one, sorryyyy.

Outfit Rundown
Headbow:
familybrawl
OP, some jewelry, cuffs, bag, brooch on headbow: AP
Shoes: Secret Shop
Cardi: Metamorphose
Socks, some jewelry: Claire's
Watch Bracelet: Betsey Johnson
Deer necklace, BABY ring: Forever 21
Wig: GLW
Whew!


This next outfit was worn to a party that one of our community members had at her house for another's Birthday! :D Present/birthday themes ensued. I went with all AP today. Not terribly creative, but I thought it was cute. :D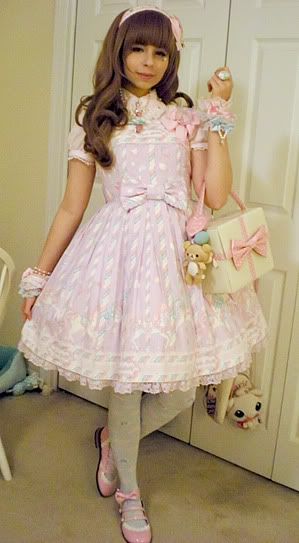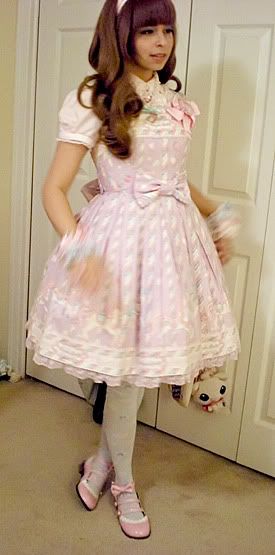 Sugary Carnival in Lilaaac. I had just gotten it in the mail, haha. I wore a few star stickers in my hair for a good effect, but they were all gathered by the bow on the headband, so you can't see them from this angle. I was really tired at this point, haha.

Outfit Rundown
Pretty much everything: AP
Bag: Swimmer
Ice Cream Ring: Handmade by another LJ user.
Wig: GLW

And now we start our AWA outfits! AWA wasn't a huge deal for me this year. I pretty much worked in the Frill boutique the entire time, haha.
Here's what I wore on Friday evening (Wore Gyaru during the day since it's more comfortable and I'm lazy) -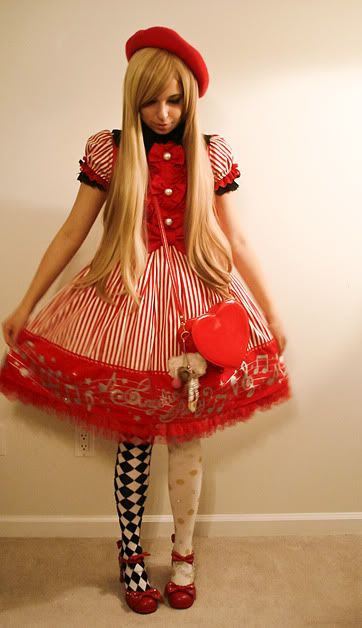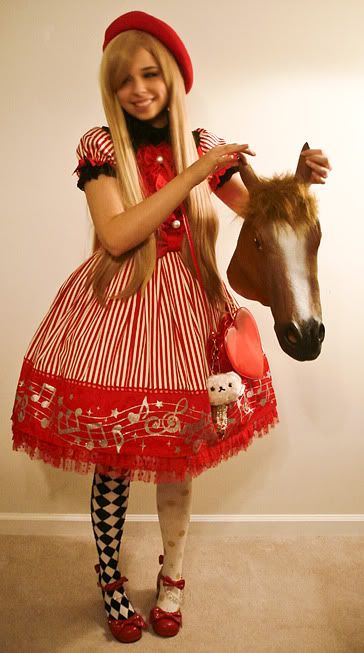 This was my favorite outfit of mine from this summer. I really love Fancy Melody! But by a stroke of luck, someone saw me wearing the OP at our Mini Jelly Jars (Megan Maude's new print) release event, and offered to trade me for her JSK. xD Wishlist dress GET! Still love the OP, tho! Dunno if you can see the details, but the socks have stars and gold dots swirling down the leg.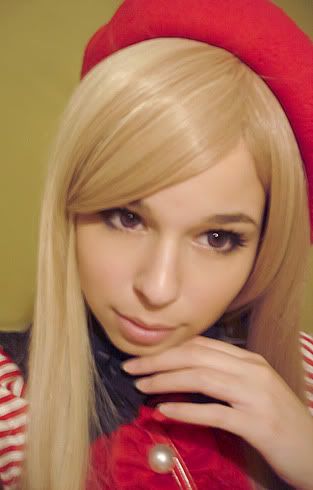 Makeup shot! I really tried to make my eyes look bigger (since I'm usually kind of squinty, what). I'm wearing Eos Max Pure pink circle lenses, offbrand Korean lashes, and The Falsies wing mascara. I highlighted the inner corners of my eyes with some gold and then used a peach blush and nude lip. The image is kinda blurry, so you can't really see most of it, haha. xD; I'm sure it looked bolder in person.

Outfit Rundown
Beret: Offbrand
Blouse, OP: AP
Socks: Claire's, Little Miss Matched
Bag: F21
Shoes: SS
Wig: GLW

Saturday outfit! I.... I'm pretty sure I just wandered into Frill in my PJ's and dug around the back until I pulled up some clothes that were suitable for serving the public in. 8D;; Here's a tiny preview of my Jelly Jars outfit that I wore for Frill's fashion show! I'll wait until I have better resolution (and better lighting) pictures before I share the whole thing with you. Also, there should be an adversitement for JJ soon, so expect nicer photos of the dresses! (I'm wearing the HW skirt in Strawberry)





And lastly, my Sunday outfit! I wore sugary Carnival because
mydirtymirror said she'd kill me if I didn't. 8D I confess, I didn't wear it with this particular wig. But I bought a few wigs at the GLW booth at the con and couldn't resist trying them out when I got home.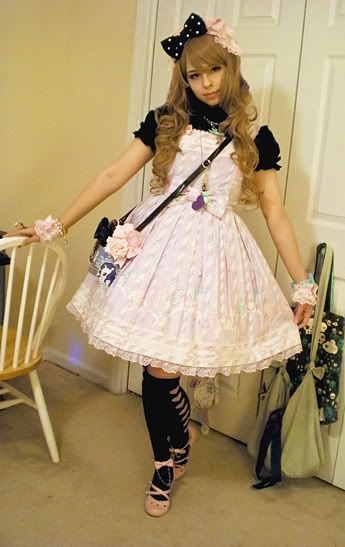 Accessories! :D A few people on Tumblr were asking where I got Rarity. I got her from Celesse's booth at AWA. :D Please go give Celesse your business! She's a wonderful artist. c:


Outfit Rundown
Headbows, blouse, JSK, bag cuffs, jewelry: AP
Shoes: Secret Shop
Socks: Target AP replicas
Bear Necklace: F21 with a Vera Wang clip
Wig: GLW


Thank you for looking.



Previous Post: http://daily-lolita.livejournal.com/4594461.html